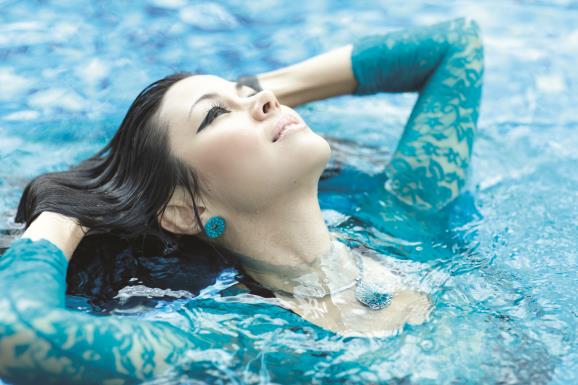 I just launched the second album of my Guided Relaxation CD "Letting Go Vol 2" for people who are stressed, overworked and wanting to be more mentally positive. BUT, this time round, there's a track dedicated to people suffering from insomnia as well! If you fall asleep while listening to it, please write and let me know. It will put a smile on my face! Actually, my sound engineer fell asleep while editing the track and didn't know where he was when he woke up to an empty office so he's given me his wholehearted stamp of approval for the "Falling Asleep" track working a bit too well  ;)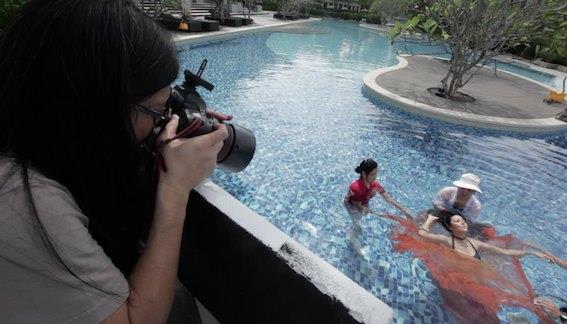 Well, when I was tossing round ideas for the album cover, I eventually decided I wanted to be shot in water. There's something relaxing and therapeutic about water. In fact, my voice was recorded over the sound of ocean waves in some of the tracks.

If you wanted to listen to some samples of "Letting Go with Jojo Struys Vol 2" just click here: 
The behind the scenes video from the making of the album is here: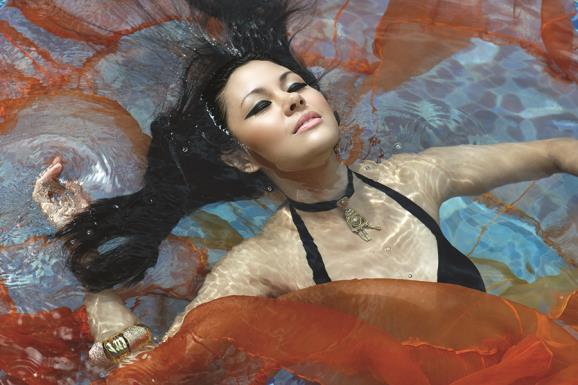 It was really challenging to be shot floating in water because you can't totally control where your hair is or your clothes for that matter because everything kept moving but I'm glad it all came together. I was trying to "let go" and just feel the moment and I think we captured that mood but it helps that I had such an awesome team. Simon Chin from Studio Pashe took these shots (yup, he's one of Malaysia's most famous fashion photographers!) and my waterproof make up was courtesy of MAC Cosmetics. This was one of my most memorable shoots...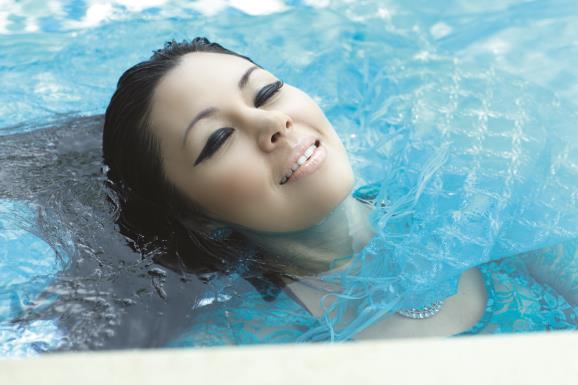 "Letting Go with Jojo Struys Vol 2", which has double the no of tracks as Vol 1, retails nationwide in Starbucks at RM27 but with a Starbucks card, you can get it for just RM19.90.
As a TV Host/Producer, I had never done anything in the food genre until I started hosting "Chalk and Cheese" on the Asian Food Channel. Of course, I've always loved good food. Who doesn't? But to actually be on set watching a serious professional at work (my co-host, Chef Tommes, used to work in a 3-star Michelin restaurant in New York), was quite an experience.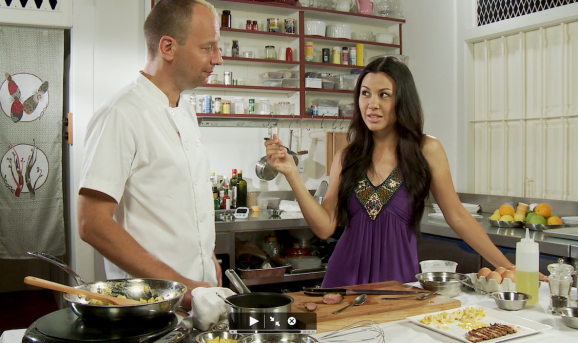 For starters, I could barely keep up with how fast he chops everything and whenever he got me to assist him, I'm not sure whether I was more of a hindrance rather than help. I tried my best nevertheless ;)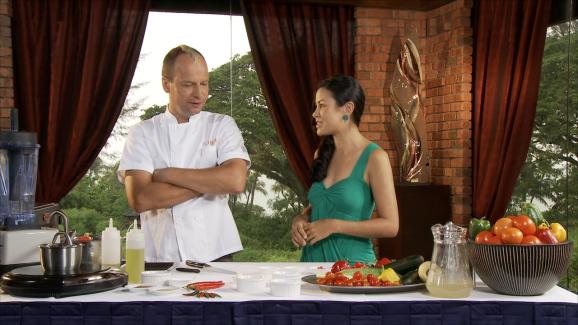 When we started editing 'Chalk and Cheese'  at kyanite.tv, it was really challenging to edit a complete dish and keep it to less than 8 mins. In a typical half hour ep with 3 segments, you've only got about 7 minutes to tell your story (per dish) yet cameras were rolling for sometimes more than 40minutes for every creation. The analogy that it's easier to write a novel than a short story definitely applies when editing a food show. It was tough to pick what should stay and what should go. There were so many great tid-bits of information, during the cooking process that had to be edited out to keep within the right time frame.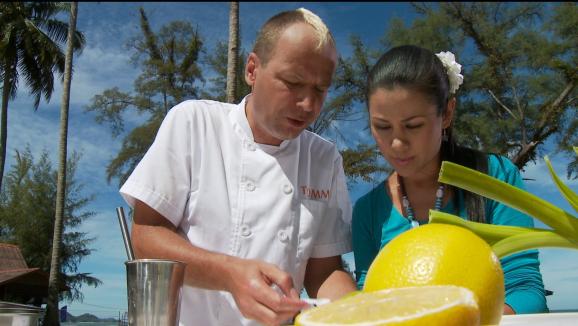 Well, I learnt heaps being on set trying to absorb as much as I could. And people ask me if the food tasted as good as it looked. Put it this way...I've never seen such a happy film crew, me included coz we finished off everything he made, leaving no 'props' behind! ;) 
A lot of our day to day stresses come about because we are constantly living in the past or worrying about the future. Yet, all we ever have, or can actually expereince is the present moment. If you find it hard to be present or to focus on being right here, right now, it's probably an idea to pay close attention to small children and your pets at home. They are amongst the world's greatest teachers in living the moment. They are always 'present' and focused on whatever they are doing! I find it fascinating watching children and animals in action because they always live in the NOW. Just look at this kid...she's really immersed in the moment without a thought for last week or next month. She was really enjoying herself and I was enjoying watching her chase these pigeons. For a beautiful moment there, I forgot whatever I was thinking about. She helped me stop to smell the roses.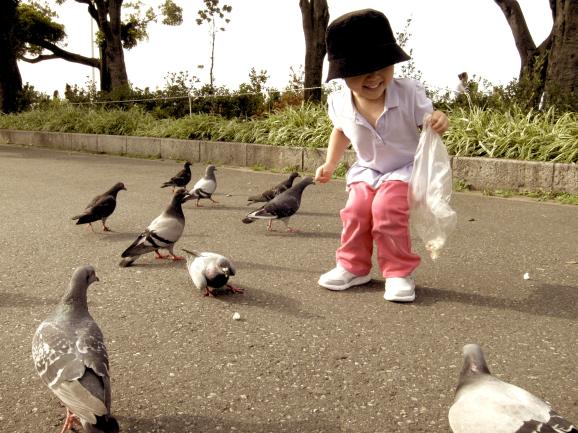 Living the moment does not mean you don't plan ahead or think about the future. It would of course be good to do everything necessary to be absolutely prepared in life but once you've done everything you could, just let go. Enjoy today because tomorrow isn't here yet!